MusicWorks! Studio of
Performing Arts
99 Kingdom Hall Drive
Clyde, NC 28721
(828) 565-0381
Email Us


MusicWorks! Studio of Performing Arts was established in 2002 by Lynne Wells-Meyer with the objective to provide children and young adults the opportunity to discover and express their talents in the performing arts. Through enrollment in drama, dance and music classes, group master classes, private lessons and participation in stage productions, students also develop public speaking skills, build self confidence, focus and self-esteem.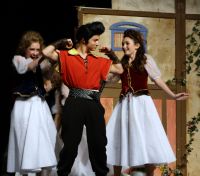 The MusicWorks Studio of Performing Arts exists to share with young people an appreciation and respect for the performing arts in a manner that:

CHALLENGES

them to develop their talent beyond their own imagined limits,

INSPIRES

them to become more confident and capable performers, and

REWARDS

them with the joy of hard-earned achievement.

We have new & exciting programs classes for 2013-2014 including new dance/music classes for young children through adults, acting, vocal audition classes and even more musical theater!!!

It's never too late to register for dance, theater, and music classes!

We understand how busy the start of the school year can be so we're always happy to accommodate mid-semester registration!




Register online or drop by the studio:

Mon-Thurs, 2pm-8pm




MEET MISS NORTH CAROLINA 2013, Johna Edmonds!

The reigning Miss NC will be visiting MusicWorks on Thurs., Feb 27th to sign autographs, visit with students and members of the community, host a Q/A session and give a brief presentation. Everyone is invited! The autograph session will begin at 4pm until 5pm and her presentation and Q/A session will begin shortly after 5pm until 6pm.